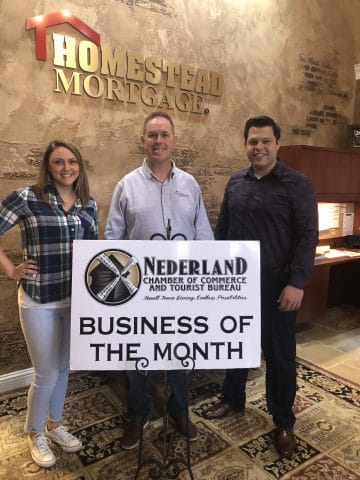 Congratulations to our February Business of The Month, HOMESTEAD MORTGAGE, at 3015 Nederland Avenue! Stop by and say hello.  While you're there, donate some school supplies for local teachers' classrooms.  #homestead helps
• What is the name of your business?
Homestead Mortgage
• Who is the business owner?
David Faul is the owner/broker; Mark Burlison is the Branch Manager of the Nederland office
• What year was your business established?
1997
• Give a brief history of your business?
Homestead Mortgage is a locally owned and operated mortgage company that started in Beaumont, TX in 1997. Our home office is located at 8155 Gladys Ave in Beaumont. We are the longest standing locally owned and operated Mortgage company in SETX. In June 2014, we opened our second office which is located at 3015 Nederland Ave Suite B. Overall, we have seven (7) full time loan officers, two (2) part time loan officers and two (2) full time loan processors.
• What type of merchandise/service is sold here?
We offer all types of mortgage financing including FHA, Conventional, VA, USDA and New Construction Loans.
• How did you get your idea or concept for the business?
Dave founded Homestead Mortgage after working for other mortgage /finance companies. He believed he could create an environment that cultured quality service and on time loan closings better than he had experienced at previous employers.